My Essex Country friends Laurie Brett and Art Rhyno came for a visit today, the first outlanders I'd laid eyes on months: they were en route from Ontario to Nova Scotia to see family, and, being lovers of Prince Edward Island, arranged their route to take them over here for a night.
As longtime readers will know, I've known Art since forever: we met in 1994 in St. John's at the Access conference, and our paths have overlapped many times since.
Laurie is a former newspaper publisher, having run her family's Essex Free Press for many years. And it was bearing a galley of type from the Free Press that Laurie arrived in Charlottetown, on a mission to see it given life in print via my Golding Jobber № 8.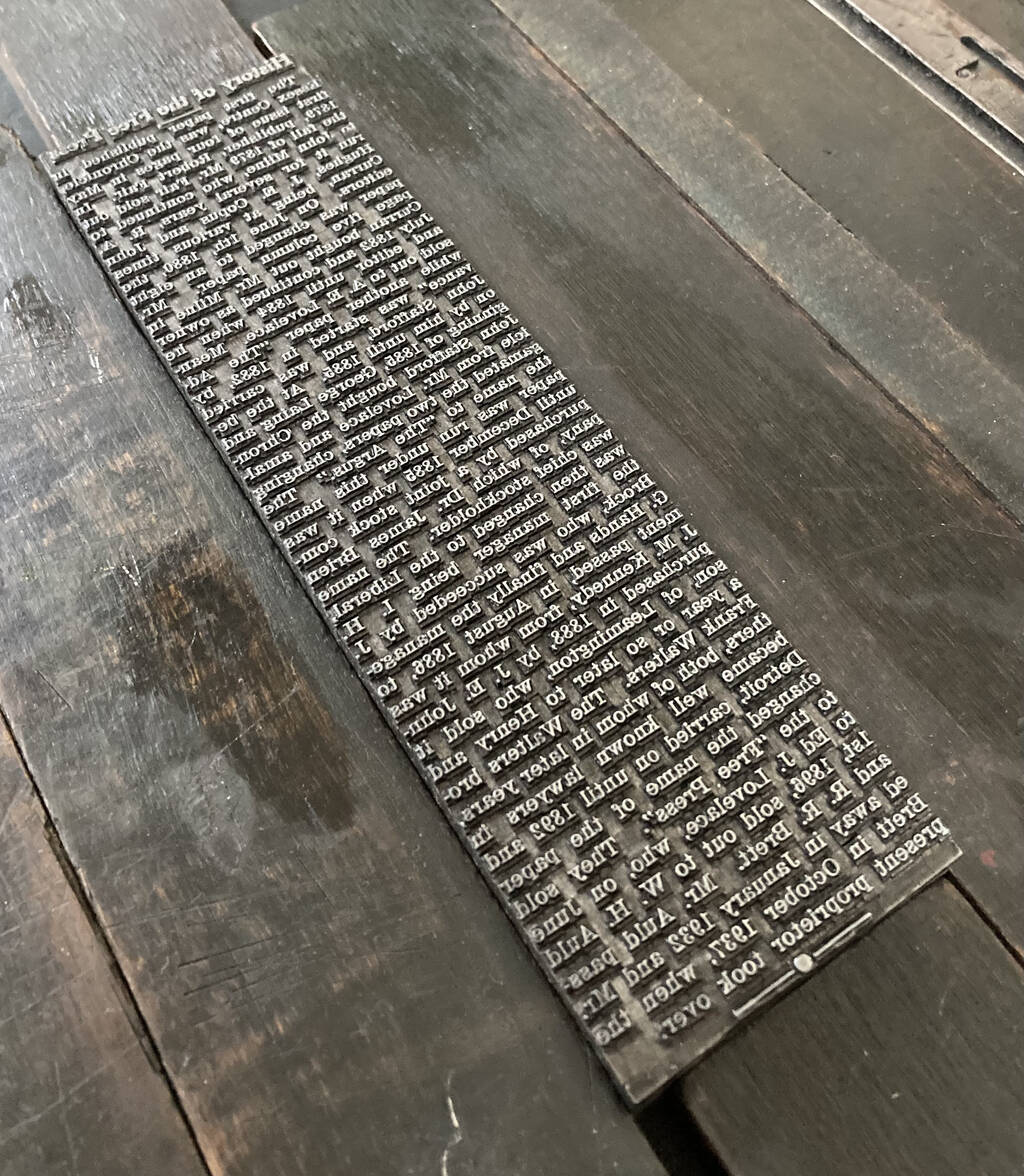 The galley had been passed down through the family publishers of the paper, and was originally set on a Linotype machine; despite having seen such machines in operation many times, this was my first time getting to handle their real work product: so much less fiddling than dealing with hand-set type!
Here's the result: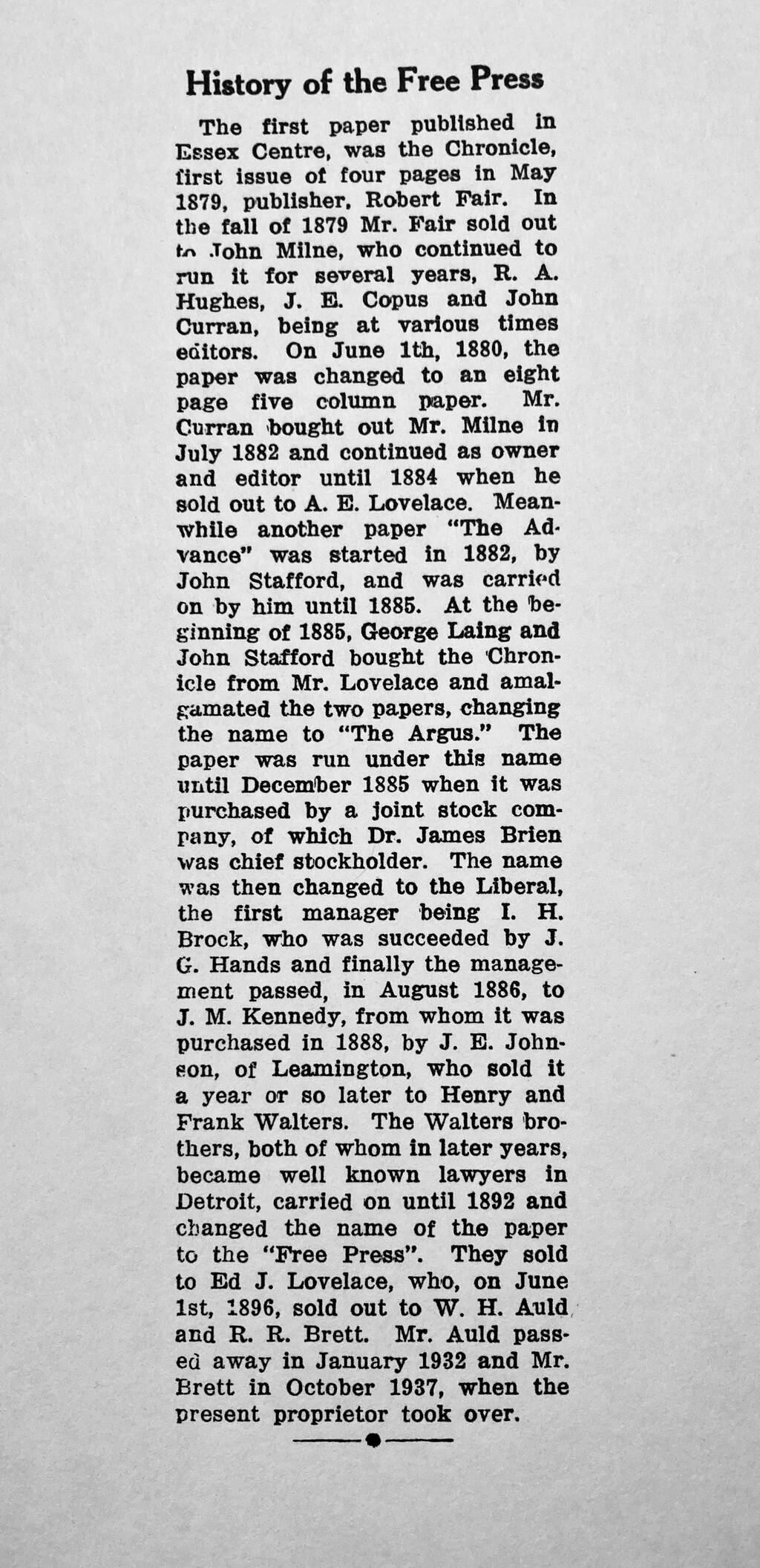 One of the fringe benefits of reanimating the story on paper is that it can now be OCRed, thus:
History of the Free Press

The first paper published in Essex Centre, was the Chronicle, first issue of four pages in May 1879, publisher, Robert Fair. In the fall of 1879 Mr. Fair sold out to John Milne, who continued to run it for several years, R. A. Hughes, S. E. Copus and John Curran, being at various times editors. On June 1th, 1880, the paper was changed to an eight page five column paper. Mr. Curran bought out Mr. Milne in July 1882 and continued as owner and editor until 1884 when he sold out to A. E. Lovelace. Meanwhile another paper "The Advance" was started in 1882, by John Stafford, and was carried on by him until 1885. At the beginning of 1885, George Laing and John Stafford bought the Chronicle from Mr. Lovelace and amalgamated the two papers, changing the name to "The Argus." The paper was run under this name until December 1885 when it was purchased by a joint stock company, of which Dr. James Brien was chief stockholder. The name was then changed to the Liberal, the first manager being I. H. Brock, who was succeeded by J. G. Hands and finally the management passed, in August 1886, to J. M. Kennedy, from whom it was purchased in 1888, by J. E. Johnson, of Leamington, who sold it a year or so later to Henry and Frank Walters. The Walters 'brothers, both of whom in later years, became well known lawyers in Detroit, carried on until 1892 and changed the name of the paper to the "Free Press". They sold to Ed J. Lovelace, who, on June 1st, 1896, sold out to W. H. Auld and R. R. Brett. Mr. Auld passed away in January 1932 and Mr. Brett in October 1937, when the present proprietor took over. 
I'm so happy to have been able to do this.