Last week when Readmill launched to the public I jumped in with both feet, blogging about its general greatness and on some novel uses for it. Inevitably, after I started using the Readmill iPad eBook reader more, and thus generating more highlights, I went looking for my highlights, and others' highlights, in RSS form. When I didn't find them, I tweeted and Readmill replied:

Fortunately, despite the absence of RSS, Readmill does have a public API, making it possible to roll ones own RSS. Which turned out to be a relatively easy task in Yahoo Pipes: just slurp in the publicly exposed XML of everyone's highlights, loop through each item to look up the title of the book in question, and emit as RSS: ta-da, you've got an RSS feed of everyone's Readmill highlights, something that looks like this in Google Reader: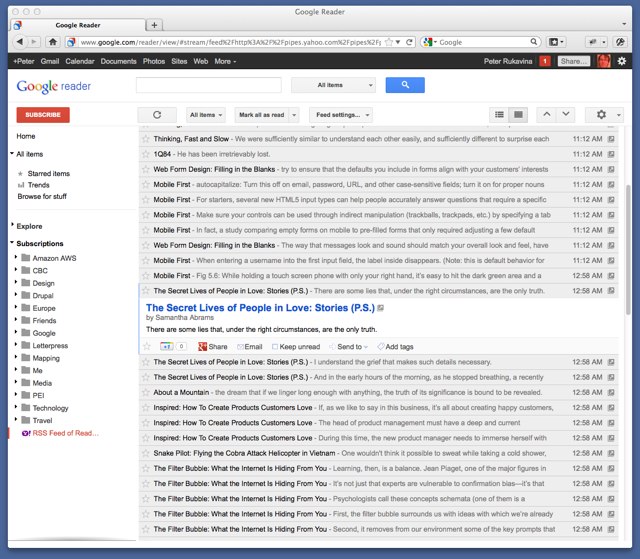 You'd think that an RSS feed of everyone's highlights wouldn't be all that useful and, indeed, when I encounter highlights in German or Chinese it's not; but, on balance, I've been finding this RSS feed is a goldmine of interestingness. It is, after all, a constant stream of things that other people find interesting enough to highlight, and thus, in essence, a stream of what's good about what's good.
And it's more than just passing-interest: yesterday I bought a book — The Hollywood Economist — based on the interesting highlights I'd seen stream by in my RSS from Readmill community manager Aaron Kelly.
Note that none of this would have been possibly without the open systems and associated bits of flue underlying it all: Readmill's API which exposes XML; Yahoo Pipes which reads XML and transforms it into RSS; Google Reader which consumes RSS; Melville House, the publisher, which had the courage to release a book unencumbered by DRM (which both enabled Aaron to read-and-highlight it, and me to buy it).