For the past couple of months I've been working with the folks over at Plazes in Berlin on a series of screencasts designed to help explain the service to new users.
It's been an interesting journey: I've learned a lot about "screencasting" as an art, and have built up an good Screencasting Toolchain along the way. I've also stuck my fingers deeper into Plazes than ever before, and have worked with a really excellent team at Plazes bringing the screencasts from dream to implementation.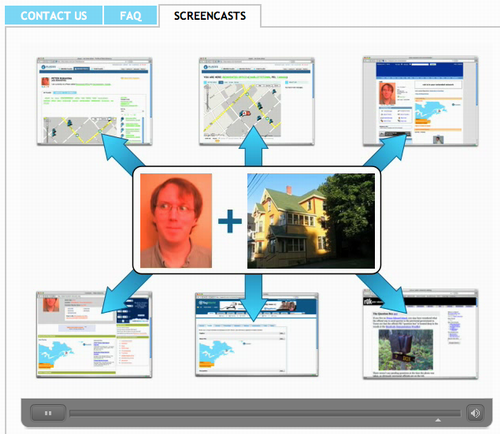 The screencasts went live just now, so our humble Reinvented Plaze is beaming out to untold millions. As is my goofy looking photo (a photo I took three years ago in our dining room that makes me look as though I've got a severe sunburn; but it has become "Brand Pete," so what can I do?).
One of the interesting things about this job is that it came as a direct result of this declaration of war against shyness. Scroll down to the end of that post and you'll read how I ended up at dinner in Copenhagen after reboot with Stefan and Felix — "the Plazes guys." And so it began. Take that, shyness!
Another new Plazes feature went live at the same time: the ability to update your location by SMS text message. This feature takes Plazes mobile in a whole new way; you don't need to have a particular mobile phone like you do with the Mobile Plazer — you can update your Plaze from anywhere with any mobile carrier with any phone.
Of course now I've got to update the screencasts to include a chapter on this new feature…