After deriding those who would "set off [by bus] to make a day of going to the mall," this afternoon Oliver and I set off by bus to make a day of going to the mall.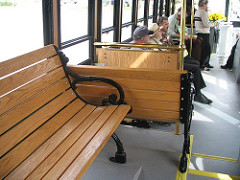 We caught the 2:00 p.m. Winsloe-University in front of the Confederation Centre of the Arts. We both slipped our $2 in the fare box, only to learn that Oliver, being 5 years old minus a day, is free. Until tomorrow. So we got back $2.
Those of you hoping for the gritty experience of New York or Boston transit you will go away from a Charlottetown bus ride disappointed: in addition to the kindly driver, there were two on-board concierge-educators and we passengers were smothered with helpfulness and direction.
My jury is out on the actual buses: they are "ye olde," and one doesn't want to encourage the innate tendency of City planners towards that aesthetic. But now that I've a trip under my belt and an hour sitting inside the buses, I'm leading towards thinking of them as "Pee-wee Herman absurd" rather than "Benny Hill absurd." I know the distinction is a fine one, but when you combine the faux San Francisco exterior with an interior that crosses city park with the set of Striptease (complete with brass-work and leather), it's hard not to feel proud that we're cutting our own crazy transit path and not following the footsteps of those lame conformists with regular old buses.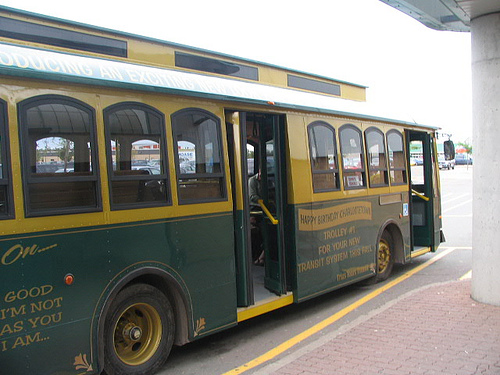 There were the usual bunch of rabble-rousers on board — "public transit advocates" and the like. And a half dozen people on the way to the Atlantic Superstore to buy groceries and a couple bound for the University of PEI.
The scheduling was a little rough around the edges, as was the "finding places to stop the bus that don't block traffic," but that's to be expected on the first day. The wooden park-bench-style seating was, in addition to being ugly, mildly uncomfortable; the saving grace was a brand new suspension in the bus, so the ride was smooth.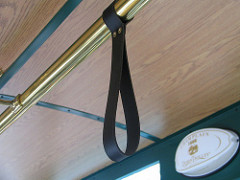 We arrived as scheduled at 2:25 p.m. at the Charlottetown Mall. Unfortunately the Charlottetown Mall is about as exciting when you arrive by bus as it is when you arrive by car; fortunately the return bus was scheduled for 3:15 p.m. so we didn't have a lot of time to kill. We went to Winners and Zellers, bought a birthday present for Isleen, ran into one of Oliver's kindergarten friends and then, before we knew it, it was time to come back downtown.
The return bus ride was uneventful save for several additional episodes of staff niceness, including a heroic dash back to assist a man with a walker who had been waiting in the wrong place at the University. We got off the bus at 3:35 in front of the Jean Canfield Building on Fitzroy and walked up to the office. So now we know.
Transit user tips: they're still getting used to the schedule, so it can't hurt to be 10 minutes early at your stop, especially if you're catching the bus somewhere other than the beginning or end of the line; the buses are quite low to the ground, and claim wheelchair accessibility (although we didn't see any wheelchairs on board, so I don't know how this works); kids 5 and under are free, everyone else (seniors included) are $2 each way, no change provided.