Since I first had bánh mì in Berlin in 2011 I have been hooked, and these Vietnamese sandwiches have become one of my favourite foods, on a "if you had to choose one thing to eat every day for the rest of your life" level.
Here in the hinterlands, bánh mì are not easy to come by: Casa Mia made a college try, but otherwise a trip to Halifax is the closest way to get a fix.
Until today.
When, driving back home from the Charlottetown Farmers' Market, I spotted a sign for Madam Vuong Coffee, Viet Sub & Street Food on the signpost on the front of the old Needs store across from the CBC on University Avenue. My bánh mì sense started to tingle.
Taking out my map mid-afternoon, I realized that we could cycle there from home by going up the Confederation Trail and down the Research Station access road, which would place us directly across, and thus only a take-your-life-into-your-own-hands dash across University Avenue. So that's what we did: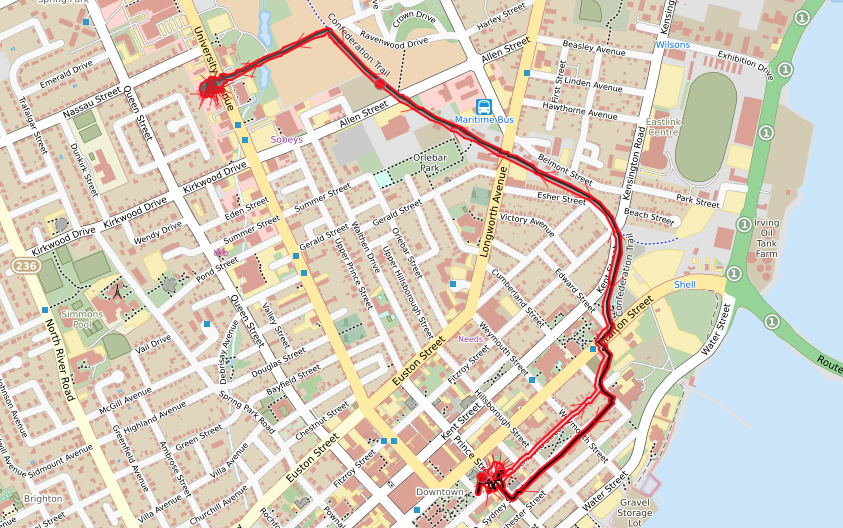 Madam Vuong is a little hard to find the first time: you need to go around the right side of the old Needs building (currently a fruit and vegetable store), behind the food trailer, and into the door marked "Unit C." There's a sign for Madam Vuong to the right of the door you enter through: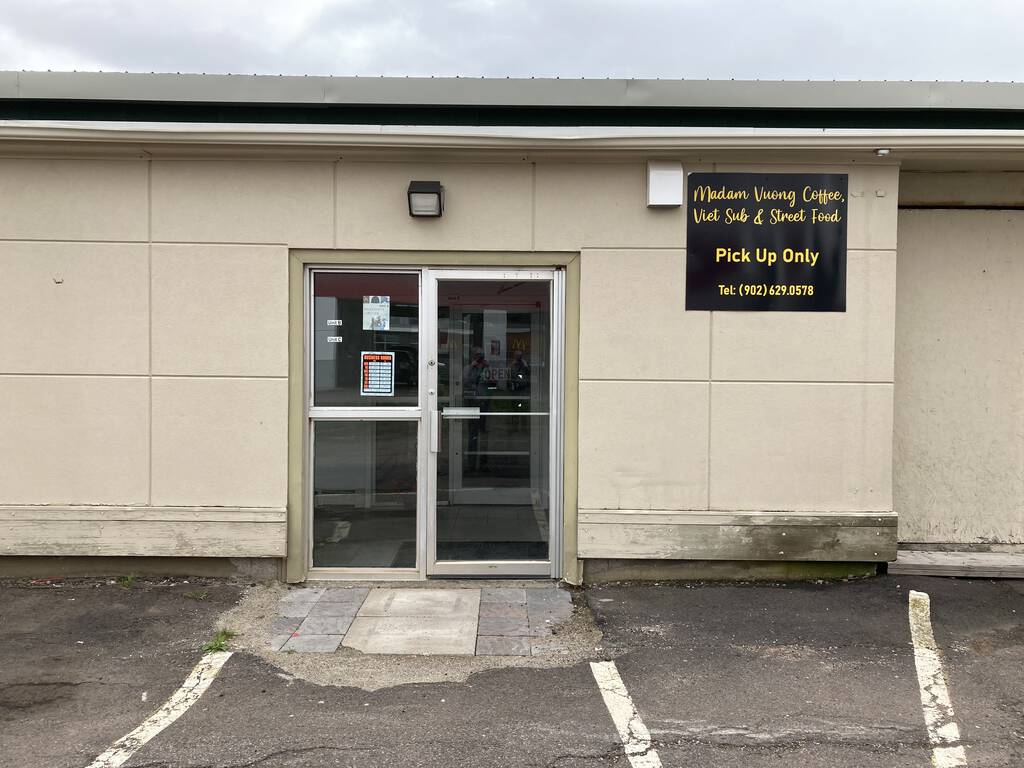 Inside is a spotless white-painted space with an order counter and an open kitchen. It's takeaway only, and because everything is scratch-made, if you're in a hurry you might want to phone your order in or order online.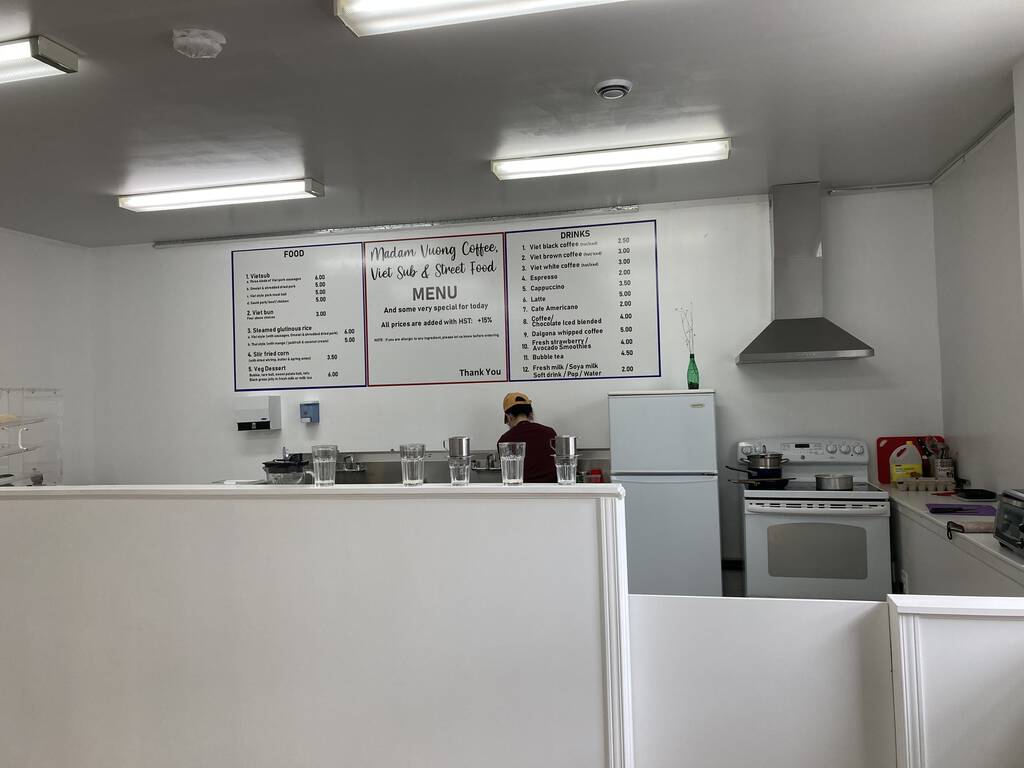 For round one we ordered cold beverages: Oliver had the Virgin Lychee Mojito and I had the Iced Brown Coffee (strong Vietnamese coffee with condensed milk, over ice). The coffee takes 5 minutes to drip-drip-drip before your eyes: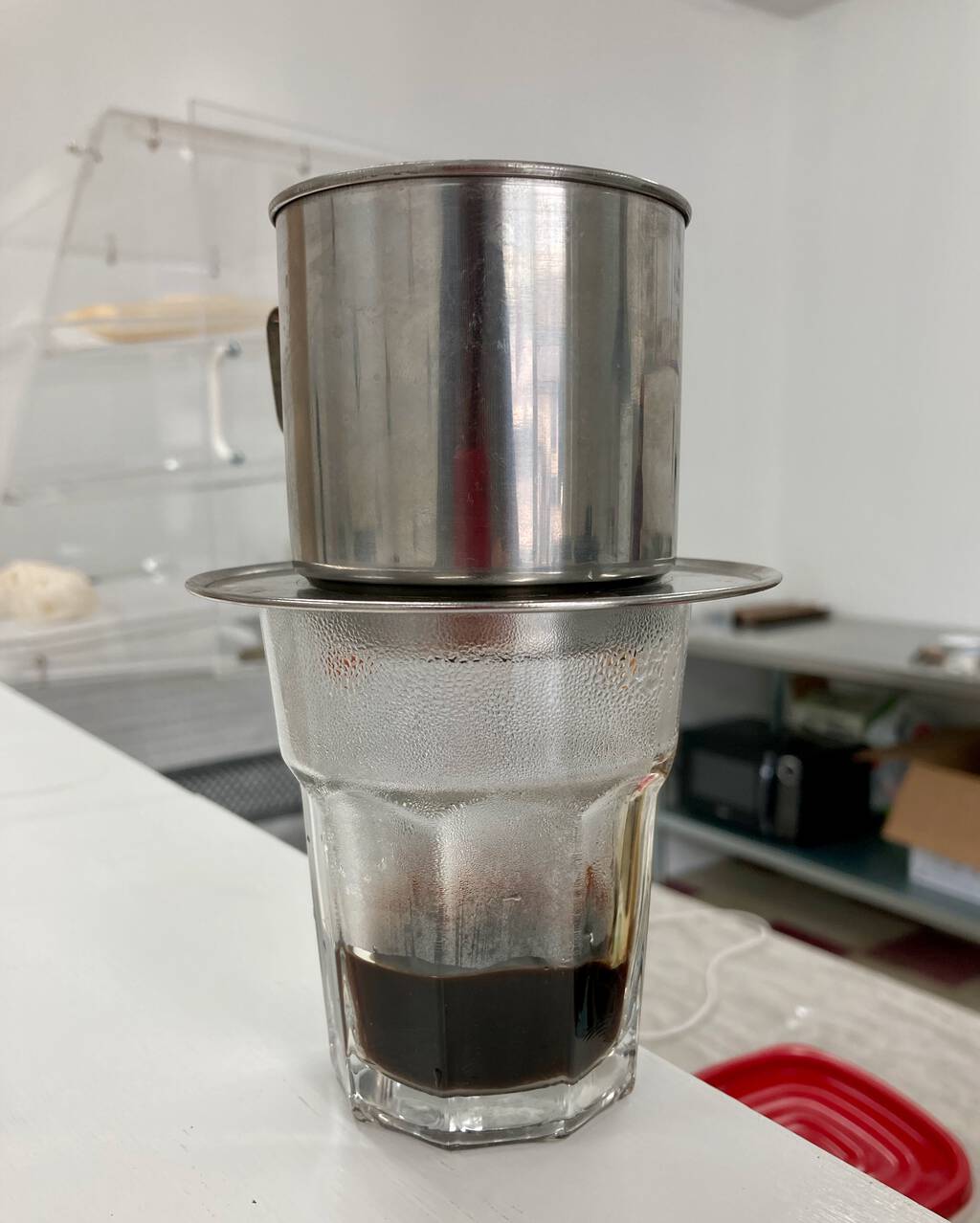 The coffee was very good, and appropriately high test (I may not sleep tonight). Oliver reports his mojito was very refreshing.
We decided dash back across University Avenue for a second round, the prospect of sandwiches being too good to pass up (and having learned they serve a vegetarian bánh mì not advertised on the online menu).
It took about 15 minutes for our sandwiches to be prepared, but it was worth the wait, as they were fantastic, and everything you'd ever want in a Vietnamese sandwich: the perfect bread (you cannot make bánh mì with any old bread), crunchy, spicy, unmistakable. I had the vegetarian, Oliver had the chicken.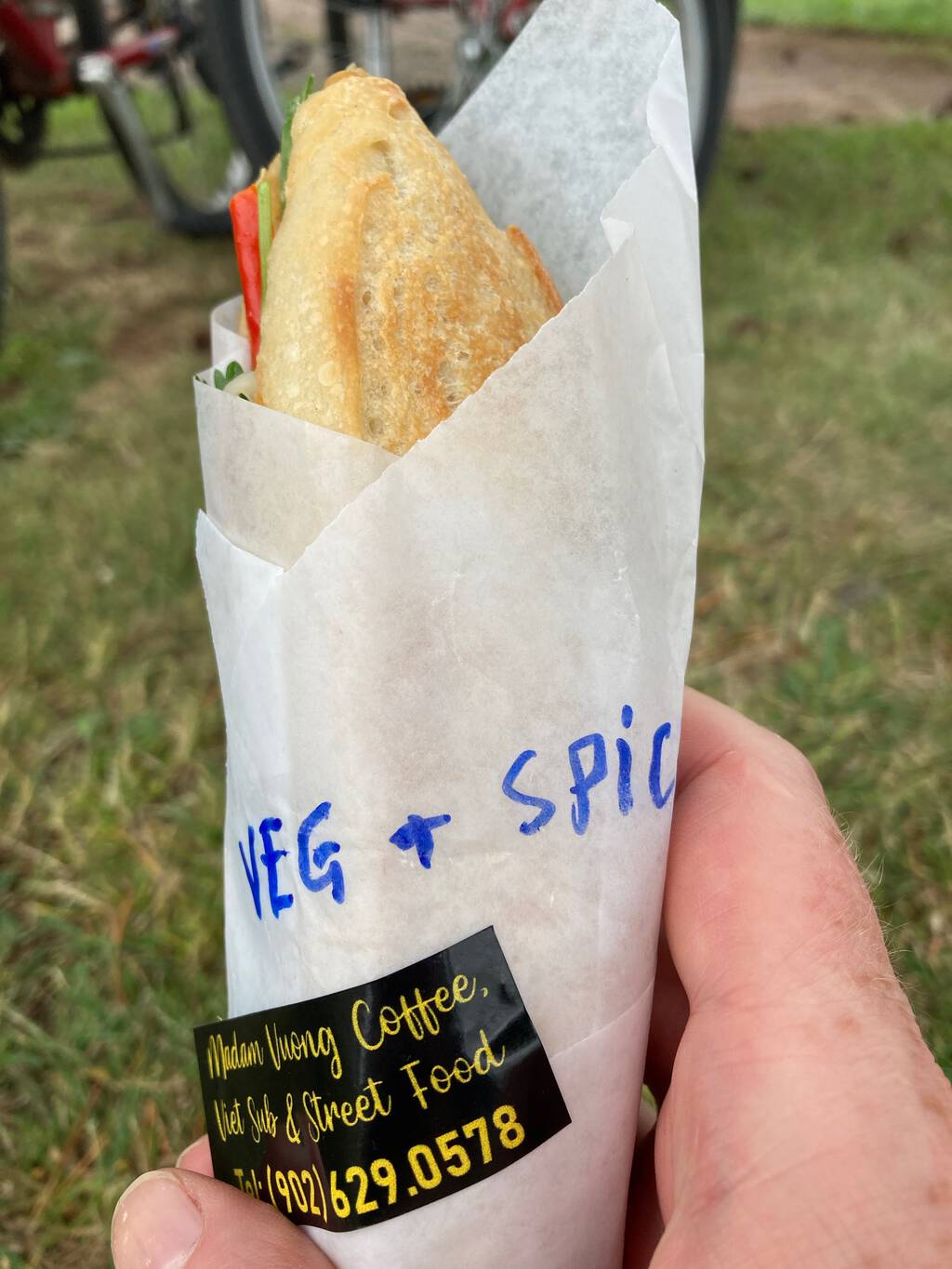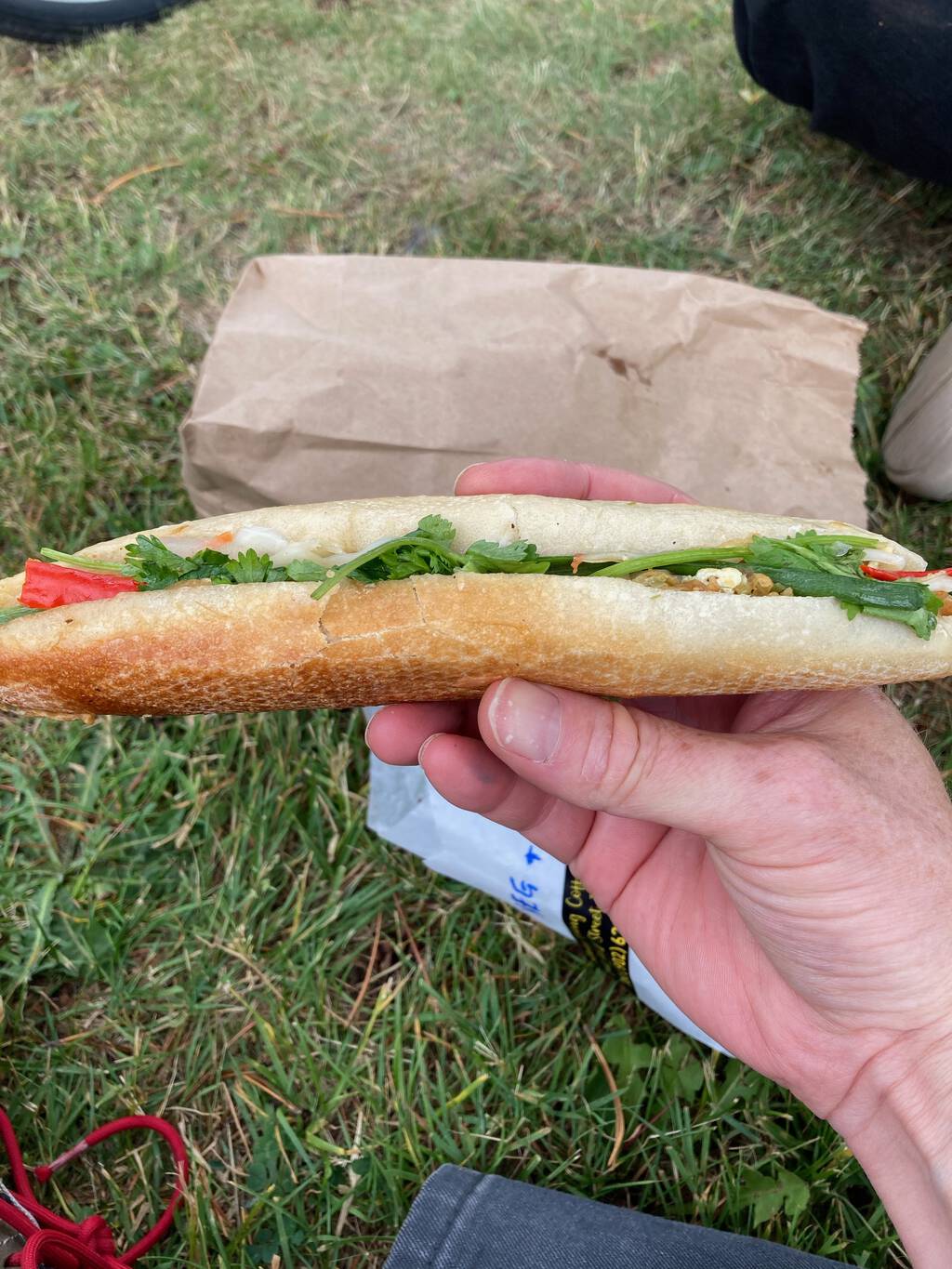 If you are used to monster footlongs from Subway, you will find the "Viet sub" diminutive, but they are exactly the right size to fit in the hand, and exactly the right size for a satisfying lunch.
A few things to note:
The online ordering system, the menu on the website, the menu board in the restaurant, and the printed menu in the restaurant are not completely in sync, so it helps to ask if there's something you're looking for and don't see on one or the other.
As I mentioned above, it's really easy to cycle almost-there on the Confederation Trail and the Research Station access road. There's a nice shady tree on the Research Station side of the road under which coffee and sandwiches can be enjoyed.
Service was really, really friendly. 
I am so happy.