For a long time the "house style" here on the blog has been to indent the second and following paragraphs by 2 ems. Daniel Burka once criticized this as being a "relic of print." And it is.
Yesterday, as part of my wiki hacking, I thought to myself "it's time to get with the program, leave print behind, and do with a more Daniel-approved 'white space between paragraphs, no indent' style." So I did. The result is on the left in the image below: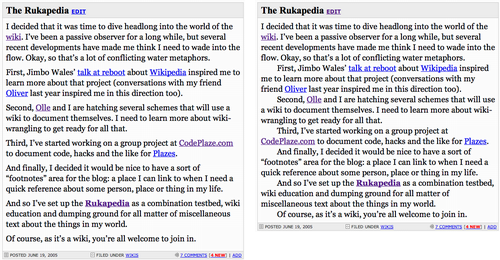 I tried living with this style for almost 24 hours. But I couldn't take it. Every time I opened my blog in a browser I recoiled in horror at the ugliness.
So this morning I have reintroduced this relic of print (witness right side of the image above). I'll just have to live with Daniel's contempt.