Consider a science fiction story in which there are two classes of people: those who have arrived, and those who aspire. The Aspirants, as they are called, spend a life damned to aspire to but never achieve a comfortable role in society. In this story I would be an Aspirant and the role to which I'd aspire would be at the heart of the demographic of Mountain Equipment Coop.
I mean, what's not to like: it's a coop, their stores are beautiful and ecologically tilted, and they sell cool, intricate purposes-designed gear.
In my role as a MEC Aspirant I almost always visit a MEC store when I find myself in a city with one, and tonight was no different: driving home from supper with Mike I spotted the new Burlington store on Brant Street and pulled a quick U-turn with the car. Once inside I was left, as usual, to gaze forlornly at the grappling hooks and kayak racks and extra-bright bicycle lights and the trousers with pockets for ice axes, wishing only for one little slice of a hobby that would cause me to need any of these wonders.
Sure, I bought a kids travel backpack there back in March, but a kids travel backpack is surely not at the heart of that to which I aspire. It's no ice axe, no extra-large BPA-free Nalgene water bottle, no bear can.
When they announced that the store was closing for the night in 15 minutes I panicked, knowing that unless something changed I would end up in the parking lot with my Aspirant frown still painted on. I couldn't face the prospect. So I bought myself a spork. A nice titanium spork.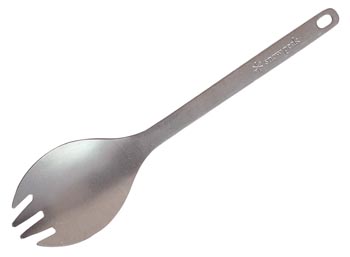 I don't actually need a spork: there is no activity in my life that would be weighed down too much by carring both a spoon and a fork. But I've always wanted a spork. I've gazed at the sporks on every previous visit to Mountain Equipment Coop. And so I'm hoping that by quenching my sporky desires I will somehow, if not give up my role as Aspirant, be at least able to move on.