We have been promiscuous in our appliances purchases over the last 20 years on Prince Edward Island, having purchased from a variety of sources, and never being completely satisfied. And so I dreaded the prospect of going back into the marketplace to replace our washing machine when it conked out for good on the weekend.
We bought the machines 7 years ago, a GE front-loading model, from MacArthur's Appliances, a washer that itself replaced a dead one we'd purchased from Sears when we moved into the house in 2000 (whatever happened to washing machines that last 20 years?).
Last month the washer started making a horrible racket while the drum was spinning; Catherine called MacArthur's and then sent a repair person. The diagnosis: the washer needed a new part, which would cost $1000, plus 3 hours labour to install.
As it didn't make sense to sink $1000 into a 7 year old washer (despite the ecological concerns I have about junking it), we crossed our fingers and hoped, against logic, that we could continue to use the washer, putting up with the racket.
Of course we were wrong. And this weekend it finally died for good. And, with laundry in danger of overwhelming us if I didn't act quickly, I set out yesterday morning to find a replacement washer.
I started the day at MacArthur's: I thought it only just to allow them to atone for selling us a dud. Their friendly sales person acknowledged the issue, telling me that "GE had problems in the early days of its front loaders," but was otherwise without contrition, and, beyond assuring me that GE had learned from its sins, offered no recompense or apology. I couldn't conscience purchasing another GE washer from them – GE is the only brand they sell – especially given that they didn't seem particularly interested in keeping our business.
So, MacArthur's out.
Next stop was Leon's. We bought a sofa from them a few months back and it was a thorough professional experience, and I held out high hopes.
Leon's had a good selection of washers from several different brands, and two Samsung models were on sale and in our price range. The sales person and I got into the weeds trying to figure out the difference between the two models, but once that was resolved, I was close to considering purchasing one.
But then I asked about delivery and carting away of our old model: they were happy to offer delivery, but didn't offer to remove our old washer (the explanation, oddly, involved bed bugs). Which would have left us in the position of having to pay someone else to come and remove the old washer and take it to be recycled. Why would I want to do that?
So, Leon's out.
Reasoning that I should be more prepared at this point and, truth be told, unwilling to subject myself to the retail sales experience for a third time, I paid the $6.95 monthly fee for access to Consumer Reports's washing machine ratings and identified a particular model that was well-rated and in our price range, the LG WM3170CW.
This made the next steps simpler because I simply had to find a local dealer with one in stock that offered a good price, and both delivery and haul away.
I started with Sears. I would have preferred to email the local store, but they don't publish email addresses for stores, so I resorted to calling. I followed through the telephone tree to the major appliances department and then waited for them to answer the phone. And waited. And waited. No answer. I called back. Same result. I called back and selected the option to talk to the main Sears call centre, explained my plight, and they offered to find someone for me; a few moments later someone from the Charlottetown store came on the line.
Sears does sell the model I was looking for. The price was right: $899. And they offered both pickup and haul away.
But they couldn't deliver until April 21, they charge $75 for delivery and $25 to haul the old washer away.
So, Sears out.
The LG washer was also available from Best Buy, but they wanted $95 for delivery, would only tell me the delivery date after I purchased, and their haul away process was opaque.
So, Best Buy out.
At this point I was getting exhausted.
I turned to Twitter, and several people helpfully reminded me of M&M Furniture on the St. Peters Road.
M&M publishes their email address right on the front page of their website, so I sent an email:
Hello there,

Can you tell me if you sell the LG WM3170CW washing machine.

If so, can you tell me:

1. Your price (it's on sale at Sears for $894.91).

2. If you have one in stock (and, if not, how long it would take one to bring in).

3. What your delivery charge to 100 Prince Street, Charlottetown would be (single family home, washer on second floor)

4. What your charge for removal of our old washing machine would be.

Thanks,
Peter
Just 15 minutes later came a helpful reply:
We do have it in stock. Our price is $849 and we deliver, set up and take the old away at no extra charge. We could deliver it as soon as tomorrow or Wed.

Frank Macdonald
M&M Furniture
After a frustrating morning, that was all I needed to hear. I replied:
Thanks for your quick reply. I'll be out this afternoon to take a look, and likely to purchase.
And, an hour later, I was walking into M&M looking for Frank.
I didn't find Frank, at least not right away. But I did find Frank's father. And Frank's father walked me over to the LG WM3170CW, extolled its virtues – he said everyone in the shop had one at home – and then showed me several important things about how to properly maintain it.
Sold.
Frank's father walked me over to Frank. Who made out the bill. I paid, and 5 minutes later I was on my way, satisfied and feeling good about the world.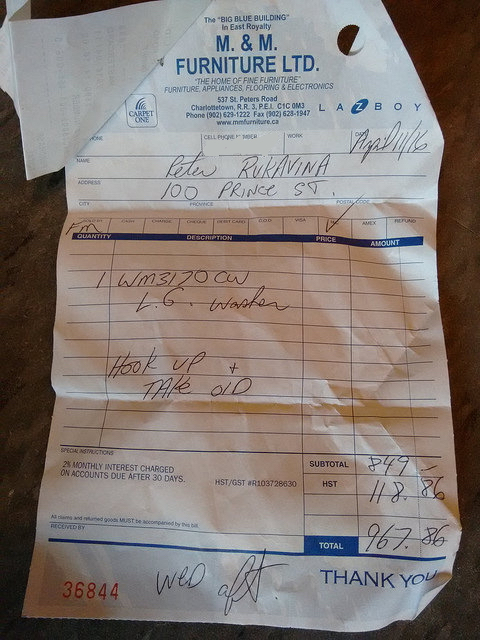 For those of you who are not M&M Furniture that want to win our business in the future (a tall order: we'll be heading back to M&M to replace our dishwasher shortly, and don't see a reason to go elsewhere), here's a handy guide about what you need to do:
Answer your phone.
Publish your email in an easy-to-find place. And reply quickly.
Be competitive on price.
Offer free delivery and free haul away.
Have products in inventory, not in a distant warehouse.
Be human.
You'd think those would be entry-level baseline propositions for getting into the appliance business, but apparently they are not.
Thanks to Frank, and to Frank's father, for, in the end, making it easy.