Our household came into an Instant Pot over the holidays.
In case you've missed the Canadian phenomenon that's taking the world by storm, the Instant Pot is a new-fangled pressure cooker that, by virtue of its precise electronic heating and timing controls, can also sauté, act as a crock pot, cook rice, proof bread dough and make yogurt. It's also an attempt to, in one fell swoop, get my generation over the "remember the time the pressure cooker exploded over at Reg and Joyce's and blew a hole in the kitchen ceiling" stories that have heretofore kept us all a safe distance from any cooking implement with "pressure" in the name.
I've jumped in with both feet, and Catherine is following quickly after me: so far I've made apple sauce, aloo gobi, rice, and pressure-cooked pounds of chick peas.
And I've made yogurt. Twice.
We go through a lot of yogurt in our family, a couple of grocery store tubs a week on average, and yet the fermentational mysteries thereof are something I'd never given a second thought to. Until last week.
The Instant Pot's success is often credited to social media–'Cult-like worshippers' turn Canadian-invented Instant Pot into a phenomenon, reported the CBC in November–and certainly you'll find a plethora of recipes and advice online. The unseemly downside to all of this, however, is that the "sign up for my useful email newsletter of Instant Pot tips and advice" crowd has taken over much of the space, and so recipes, rather than being concise and easy to follow, become SEO-optimized thickets of keywords, with the recipe itself tacked awkwardly at the bottom.
It doesn't have to be this way.
And so I present to you a simple postcard-sized "How to Make Instant Pot Yogurt" guide in comic form: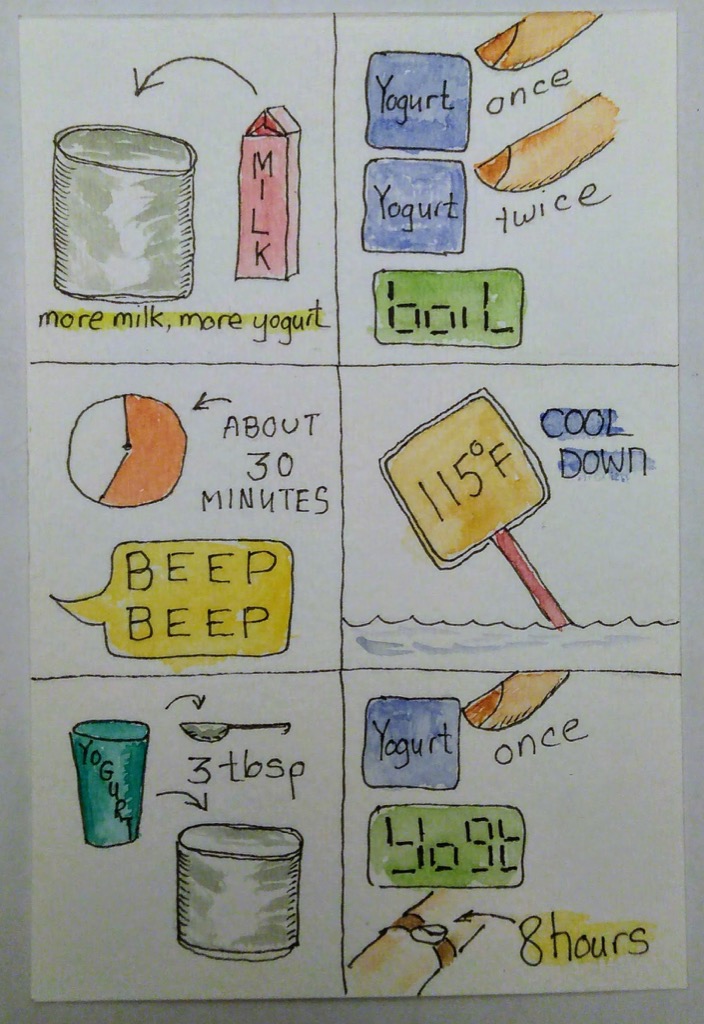 That really is all there is to it:
Add some milk to the pot. Put the cover on.
Press Yogurt twice; the display turns to boil.
Wait a while, until you hear beeps. Remove the cover.
Wait for the milk to cool to 115ºF.
Add a few teaspoons of yogurt to start things rolling.
Cover, and press Yogurt once; the display turns to Yogt,
Wait 8 hours.
At the end of the process, you'll have yogurt. Behold the awesome power of bacterial cultures!
In my experience a litre of milk yields a large mason jar of yogurt, which is enough to keep us going for 4 or 5 days. The only challenge to the recipe is that you need to start things rolling when there's still 9 or 10 hours left in your waking day, so it's best done as a morning activity with a suppertime finish.
Go forth and ferment!