I just knew this wasn't going to be a smooth trip. I'm on my way to Geneva for LIFT. I showed up at the Charlottetown airport at 16:30 for my 17:05 flight to Montreal where I was scheduled to catch the 19:55 flight to London.
Except the Air Canada flight "developed an electrical problem" that "couldn't be resolved." So the crew — presumably taking their lives into their hands? — are taking the plane to Halifax to be patched up, and the flight was cancelled.
Fortunately, I was one of two passengers that was going "backwards" to Montreal only to turn around and go east to Europe. We were pulled out of the waiting room and booked on a 18:45 flight to Halifax where, in theory, we will catch the 20:10 flight to London. I say "in theory" because of this: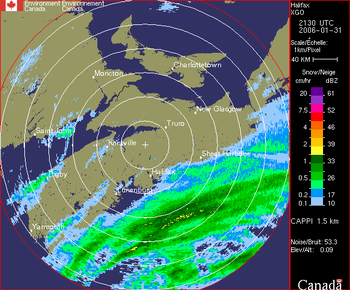 …which is a "low pressure system developing east of Cape Hatteras" that will "intensify as it tracks south of Nova Scotia tonight." I will consider it a miracle if I manage to get in and out of Halifax in the next 3 hours. If I make it only as far as Halifax, apparently there are no hotel rooms available, because of conventions and because of the storm. So I may be forced to look up long-lost friends.
Meantime, the remaining 40-odd passengers that were going to Montreal so as to actually go to Montreal — or at least to head there and then go east — are out of luck completely: the flight has been cancelled, and "because of crew shortages" will not run tonight, but rather sometime tomorrow morning.
So while I'm sitting here in the airport cafeteria with a bowl of soup, using Aliant's free wifi (thanks, Aliant!), Shawn Murphy is trying to figure out how to get up to Ottawa so as to run the country.
Stay tuned…