I got another "I've switched Internet providers so here's my new address" email from a friend today. I get several of them every month.
Which prompts me to make a very basic suggestion: I recommend that everyone register their own domain name and use that domain to receive their email. When you do this — and it's really very simple — then you're no longer tied to a particular Internet provider or web mail service, freeing you to decide the best way of receiving your Internet and decoupling your Internet service from your email.
Now this used to be something that was very complicated: drenched with arcane rules, complex to set up, and really only possible if you had your own hardware and dedicated Internet connection.
This is no longer the case: it's now possible to get up and running in minutes.
Here's what you need to do.
First, go to a "domain name registrar" website — we use both Webnames.ca and GoDaddy.com — and use the prominently-placed domain search box you'll almost certainly find there to search for possible domains to register. You'll likely find that almost any common name is already taken, so you have to be creative: if "johnsmith.com" doesn't work, try "johnsmithrocks.com".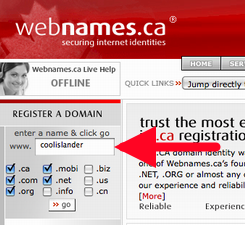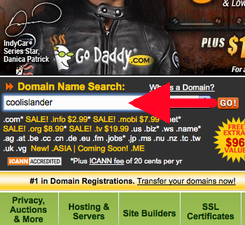 Once you find a domain that's available, proceed with the registration and watch out for a feature called, variously, "email forwarding" or "email channeling" and make sure you opt for it (it's usually free, at least for the first email address associated with your new domain).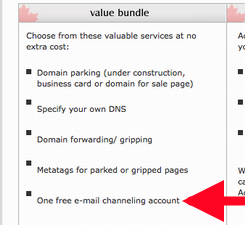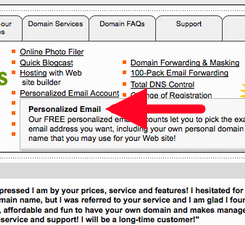 Proceed through the purchase process (this is where you'll find the biggest difference between Webnames.ca, which is more expensive but less drenched in confusing up-sell messages, and GoDaddy.com, which is much cheaper, but mind-numbingly overwhelmed with "hey, why not add this special domain security protection deactivation feature" offers). You'll have to spend anywhere from $1.99 to $35 a year for the registration depending on where you do the deal; ask your geeky friend who they deal with if you need advice.
Once your domain name is registered you'll have access to some sort of "domain configuration tool" that will let you set up email forwarding. The idea here is that you're going to set up your permanent, this-will-never-change email address — say "jorge@johnsmithrocks.com" — to forward any email that's sent to that email address somewhere else. That somewhere else can be any of:
The email address that comes with your Internet service — jorge@pei.sympatico.ca, jorge@eastlink.ca, whatever, or
A free webmail account, like the ones you can set up at Yahoo, GMail, Hotmail, etc., or
Your work email address.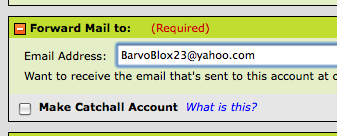 So, in other words, you're not setting up a "new place to get your email" — that can stay the same as what you're using right now — you're setting up a new way for people to email you there. So you can still login to Yahoo, let's say, and use your "BarvoBlox23@yahoo.com" address like you always have, but you can give out your cool new "doug@barvoblox.com" address to your friends, and set that address up to simply forward your email onto Yahoo.
They key here is that you can always change where your email gets forwarded by going back to the place you registered the domain and pointing your email elsewhere.
So if Yahoo gets purchased by Microsoft and you don't like their new privacy policy, you can get a Gmail account, and just point your permanent, this-will-never-change email at your personal domain at your new account. That's all you'll need to do, and you don't have to tell anyone that you've done it.