Since we bought our Kia Soul EV in December, the Holy Grail of trips has been Charlottetown to Halifax, that being the far reaches of our need to travel by car. We don't go to Halifax often–perhaps once or twice a year–but I was determined that if we were going to go we'd not leave our EV at home in favour of a gasoline-powered car.
This week was our chance to seek this Holy Grail, and it went flawlessly. 
We started with a 100% charge from our home-based level 2 charger on Monday morning at 8:15 a.m., driving east to Wood Islands where we caught the 9:30 a.m. ferry.
On the other side we drove to Stellarton to the level 3 "fast charger" at the Needs gas station, a Flo charger of the type similar to those recently installed on PEI. 
We started charging at 10:22 a.m. and got to 80% by 10:33 a.m. and then, feeling a little nervous about the distance for the next leg, plugged back in from 10:37 to 10:45 to get up to 90% (the rate of charge slows as you reach 100%). Total cost of the Stellarton stop was $4.35.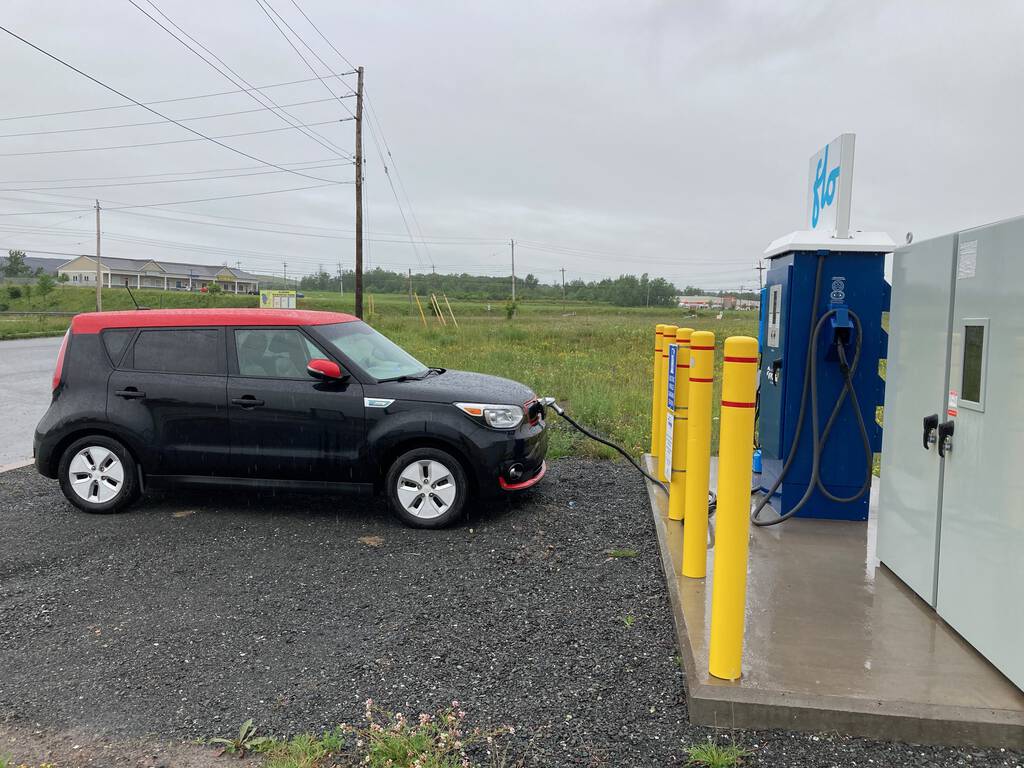 We continued onward through Truro to Stewiacke, where an Apple Maps routing incident left us looking for a charger in the middle of a forest; switching to Google Maps got us to the right location, a few kilometres up the road at the Petro-Can.
While the Flo charger required a Flo account to use, the Petro-Can charger didn't: a credit card was all that was needed, with the receipt optionally sent to my mobile number.
We started charging at 1:00 p.m. and finished up at 1:16 p.m., at 81% charge, with a total cost of $3.79.
The charge cable and plug on the Petro-Can charges is hefty: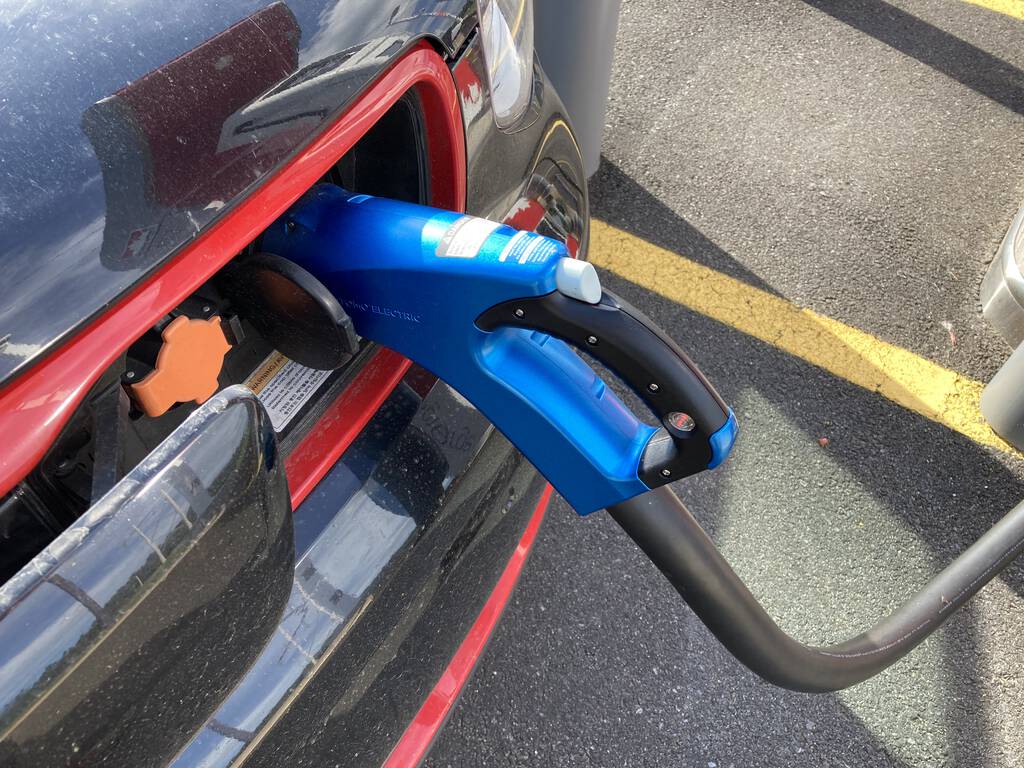 We pulled into our friend Yvonne's house in Halifax at 2:15 p.m.; the door to door trip took us 6 hours, ferry and charging included, with the charging adding only 40 minutes to the trip.
We still had a range of 35 km once in Halifax, and that was more than enough for our mostly-rooted-in-place visit to the city.
On Tuesday morning we drove out early to the Petro-Can on Herring Cove Rd. to charge for the return trip. That charge took 15 minutes and cost us $3.82 to get us to 80% charge.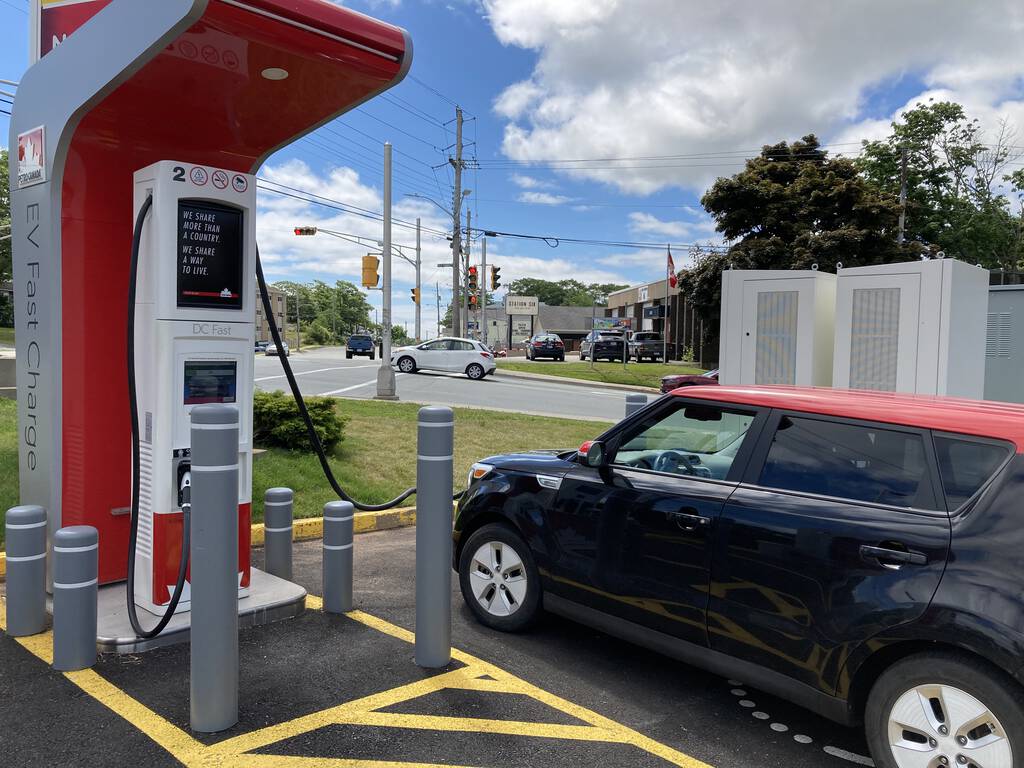 In the late afternoon we headed back, taking the same route in reverse, stopping in Stewiacke (15 minutes, $3.13) and Stellarton (20 minutes, $4.99). We arrived home with 50 km of range.
The total cost of the electricity for the trip breaks down like this:
| Leg of the Trip | Cost |
| --- | --- |
| Charlottetown to Stellarton (at home level 2) | $0.81 |
| Stellarton to Stewiacke | $4.35 |
| Stewiacke to Halifax | $3.79 |
| Halifax to Stewiacke | $3.82 |
| Stewiacke to Stellarton | $3.13 |
| Stellarton to Charlottetown | $4.99 |
| TOTAL | $20.89 |
The stops for charging weren't onerous: a couple of 15 minute stops was just enough to use the washroom, check email, and have a quick rest; this was by far the least rushed and most civilized trip I've ever taken to Halifax.
In terms of "range anxiety," the lowest the car's range-estimator got was 19 km when we arrived in Stellarton on the trip home. That made me a little nervous, but not too much (we could have charged up to more than 80% in Stewiacke, and I could have driven a more reasonable 90 km/h, but chose instead to do 100 km/h). In theory we could have skipped Stellarton altogether and charged at the level 3 charger in Wood Islands, but I was reluctant to be in the wilds of late nite rural PEI with a charger I'd never used as my only ticket home; next time!