I want to find out what's playing at the movies tonight in Charlottetown, so I surf on over to Empire Theatres' website.
All I want to know is what's playing. I don't need to be convinced what to see, I don't want to hold a birthday party, I don't want a Subway breakfast sandwich. And yet look at their website: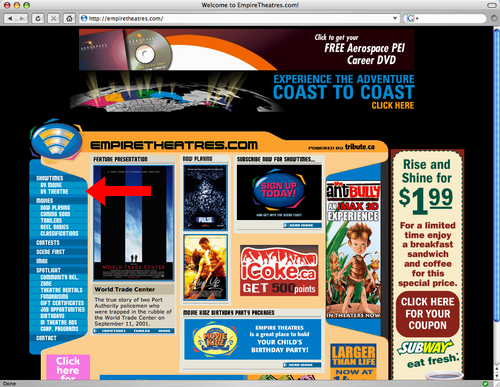 One of the smallest things on the page is the link to "showtimes by theatre" — but isn't that what theatre websites are for? It gets worse: I click on "by theatre" and go to: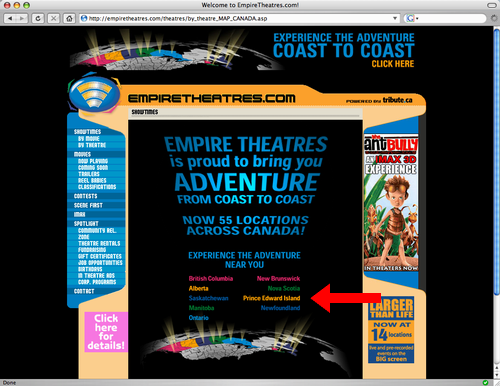 So here I get a jazzy Star Wars-style graphic telling me that I can go to Empire Theatres FROM COAST TO COAST. As I'm not considering going to the movies in Alberta tonight, this is of little relevance to me. I locate the link for Prince Edward Island and click, leading me to: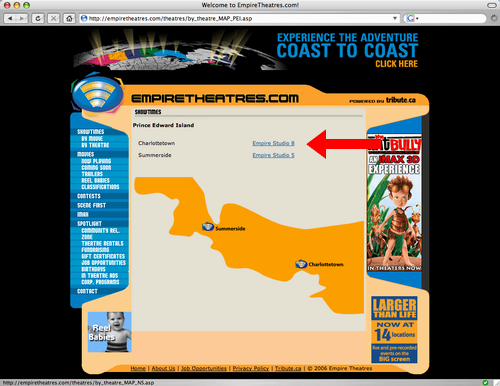 Note that on this page I can't actually click on the icon placed on the map over Charlottetown, I have to click on "Empire Studio 8" (a name I have never heard uttered by anyone — there is, after all, only one multiplex in the city). Note how the "Empire Studio 8" is located several inches from Charlottetown, just to further confuse me. Finally I end up at: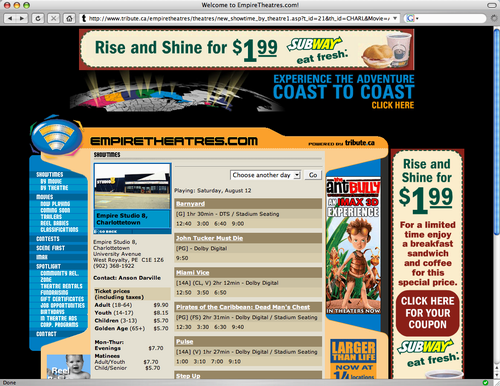 Finally, showtimes! And Subway sandwiches and Ant Bully ads. But that's okay, I've got my showtimes now. The clever amongst you might be thinking "you should bookmark this page now so you can quickly return in the future." Alas this isn't possible: the URL for this page is inanely constructed so that it's good for today only. There is no way to construct a hyperlink to the "Empire Studio 8" showtimes page; indeed attempting to make the URL "universal" by stripping off the date results in this unhelpful page: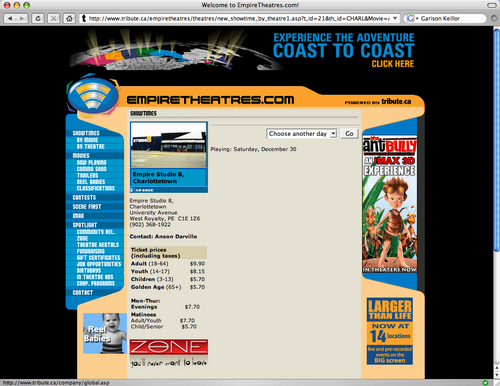 Not entirely useless, I suppose, as you can use it to plan your cinema outings for New Year's Eve Eve.
I wonder whether anyone at Empire Theatres has ever actually tried to find out what's playing at their theatres.
Disclaimer: I maintain the website for City Cinema, which is an Empire Theatres competitor. Indeed normally I'd be looking to go to movies there, but I just can't abide Garrison Keillor tonight, or, actually, ever. I've always prided myself that finding out "what's playing" at City Cinema takes no clicks at all.