On the evening of the first day of the Cognitive Cities Conference in Berlin last weekend I ended up eating supper with a bunch of reboot veterans at 3 Schwestern, a restaurant in Kreuzberg located in Bethanien, an imposing building that once housed a hospital. The food was great (and inexpensive), as was the company.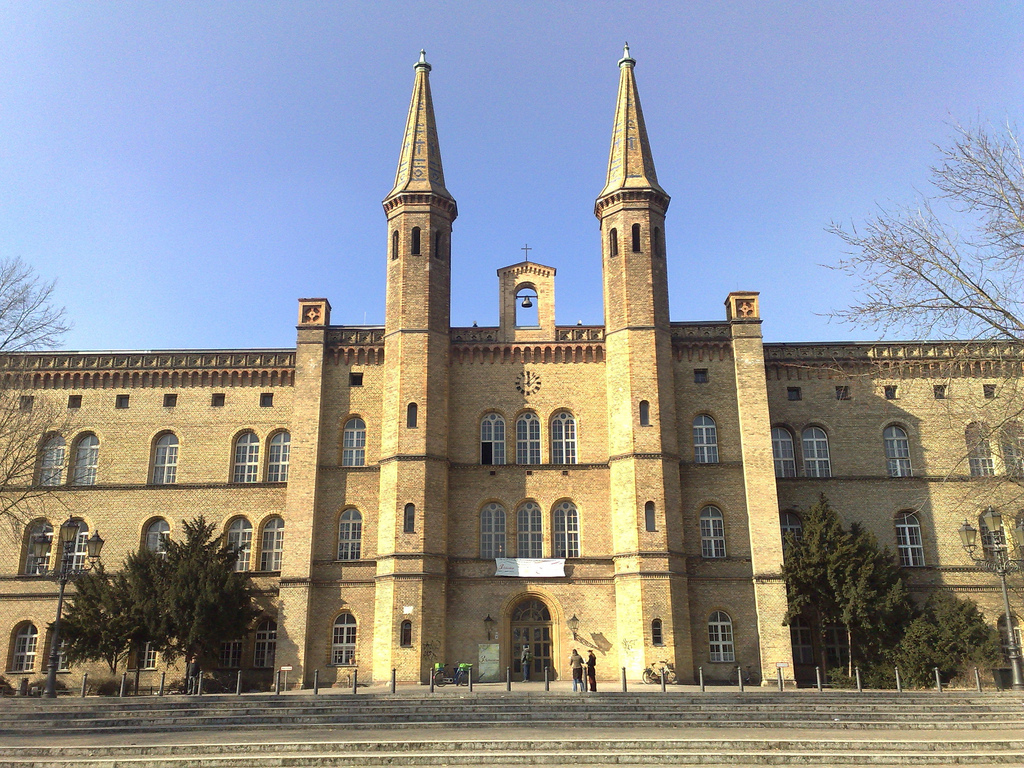 On returning from the washroom, my friend Luisa mentioned that she'd seen a poster in the hallway that suggested that elsewhere in the building was some letterpress equipment. I tracked down the poster, which mentioned something called Druckwerkstatt, and vowed to investigate later in the week.
On Wednesday morning I made my way back to the building, and asked at the information desk where I might find "the printing presses," and was directed up the stairs on the left. What I found upstairs was amazing: room after room of people engaged in all manner of "the graphic arts." In one room there were digital workstations and scanners, in the next there were people making etchings, and in yet another a photographic workshop. I rambled around unhindered until I encountered a helpful English chap who directed me downstairs into the basement to find the letterpress gear.
I found my way to a rickety old elevator, figured out how to make it go to the basement (it was painfully inobvious) and once in the basement rambled around some more until I came across a letterpress, a collection of type and related supplies: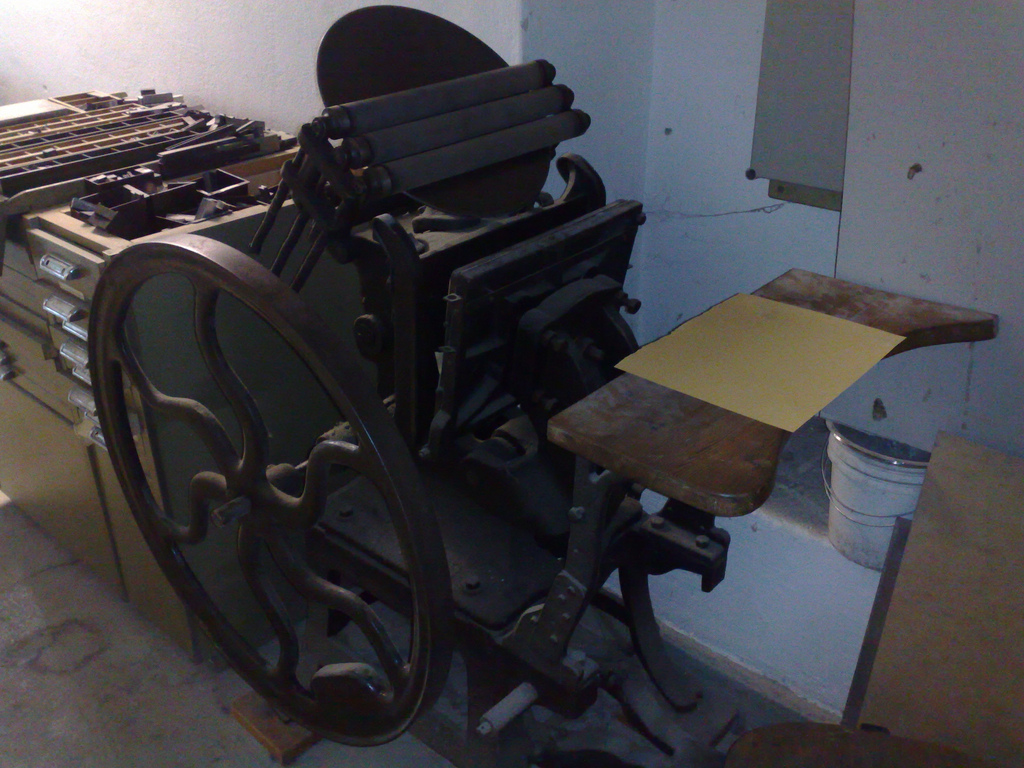 I had to dash to a lunch across town before I could learn any more, so it was only today that I learned that what I'd stumbled across was part of Kulturwerk des bbk berlin GmbH, a state-funded organization that offers "infrastructures for visual arts," including Druckwerkstatt:
The Print studio in the Berlin district of "Kreuzberg" offers all the facilities for mechanical, chemical and digital printing techniques.

Ranging from the traditional printing methods, such as book printing, etching and lithography to screen-printing and offset print, the services on offer are regularly adapted to incorporate the latest technical developments. Additionally, the studio runs workshops for papermaking and bookbinding.

A whole range of printing methods may be realised: from traditional printing editions to crossover techniques and experimental projects.
What's amazing is that all of this infrastructure appears to be available for use by anyone for very little in fees: everything from bookbinding (8 EUR/day) and digital scanning (10 EUR/day) to papermaking (8 EUR/day) and letterpress (8 EUR/day) is available.
This is the kind of thing that makes me want to spend the summer in Berlin making books and that reminds me how little public infrastructure for creation we have here on Prince Edward Island.