On our way into Leça da Palmeira two weeks ago, the man who was driving us to our home here pointed out the fish restaurant on the corner. "Good fish there," he said. So on the second night here, we tried to go there for dinner. "No tables," we were told.
So we held back, biding our time. Every day on our way to the Metro, we waved hello to the owner, tending to his outdoor fish grill. And yesterday Catherine stopped in first thing in the morning to inquire about a table for tonight and found, to our pleasure, that they had room.
"On the corner," in this case means about 35 steps from the house we are staying in. You could not eat more "locally" if you tried. And the smell of grilled fish, as a result, was ever-present during our stay here. We were very much looking forward to this meal.
So at the appointed time — 8:00 p.m. tonight — we were ushered to a table for three in the compact space, and told to just sit back and enjoy the ride: everything would be a surprise.
We started off with a plate of giant mussels. Catherine says "not as good as PEI mussels" but I wouldn't know, as they were my first mussels. Not something I'd have for breakfast, but if you imagine the sea you do okay.
Next, a plate of sardines. I'd always envisioned sardines as coming in a can packed in oil; these were fresh sardines, lightly salted and fresh from the grill. Once I got over the bone navigation issues (remember, I'm a guy raised on Captain Highliner fish sticks), they were fantastic.
The main course came next — a large platter piled high with various fish. We had no idea what we were eating — Catherine, who knows about these things, said "white fish of some sort" — but it was all good.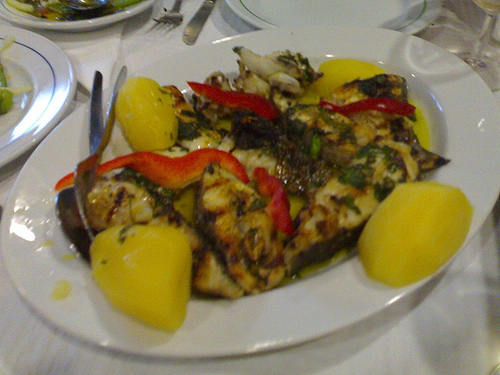 We finished up with a dessert of chocolate cake glazed with strawberry jam ("made by my mother," our waiter told us) and a special shot of some powerful Slivovic-like drink that knocked my socks off.
As the evening went on, more and more customers packed into the small space, and we garnered as much entertainment from watching the service ballet around us all as anything else.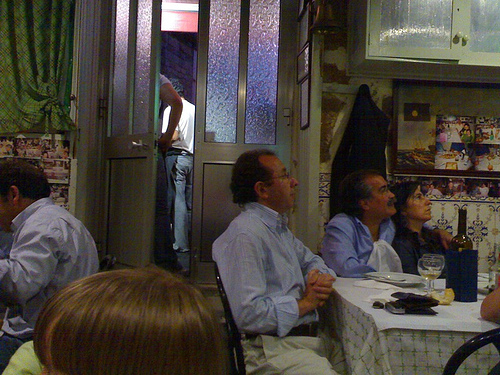 At the end of the evening — 40 EUR for three of us — Oliver shook the waiter's hand, and the chef's, and the hands of many of our fellow diners. And then we stole off for the long 35 step walk home.
This, I think, is how restaurants are supposed to work.
I'd tell you the name of the place if I knew it, but I don't. Walk over the bridge from Matosinhos, take a left at the roundabout, then your first left back towards the river. You'll see the place just down the hill on the left; look for the grill outside, and the smiling chef.