I am always forgetting when my library books are due. The PEI Provincial Library sends out handy email reminders, and they have a website that lists checked out items, but I need more (and more obvious) prodding.
The result is opac2rss.pl, a Perl script that automatically connects to the web-based Dynix (aka Epixtech) OPAC and grabs a list of the items I've got checked out and the date they are due. It then creates an RSS feed that I can read in my newsreader every morning.
The result looks like this: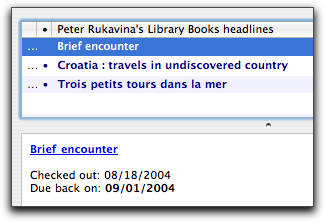 The Alibi project in Nova Scotia was invaluable in getting this working, and the O'Reilly book Spidering Hacks was useful in understanding how to use the Perl HTML::TreeBuilder module.