I don't read printed bus timetables very well. So I created the Charlottetown Transit Interactive Bus Map: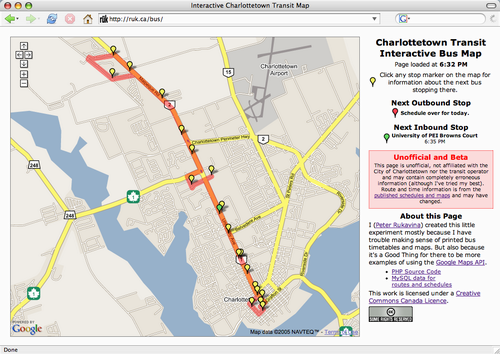 This is a little Google Maps hack that uses PHP and JavaScript to display information about Charlottetown bus routes and schedules.
This is just a tentative first go; specifically:
Only the Winsloe — University Ave. line is included (it's the only one in operation as I write).
Stop and route location may be incorrect; I simply recreated this as best I could from the published schedules and maps. If you find problems, please let me know.
I left out the early morning and early evening swings to the Garfield St. terminal.
Assumes a Big Browser Window (map is 700 pixels wide); future versions should be more flexible.
No allowance made for the fact that there are no buses on Sundays.
Doesn't span days — after the transit day is over, all times display as "n/a".
You're welcome to grab the source and the data and improve. Steven says I need a source code repository for all my little code experiments; expect this soon.
It goes without saying that this project is unaffiliated with the City of Charlottetown or the transit operator; if it breaks, or sends you to the wrong place at the wrong time, it's my fault, not theirs.