My postal code for the last 18 years has been C1A 4R4. As postal codes go, it's a pretty good one: it has been easy to remember, and it looks sharp on an envelope.
It wasn't until I went to mail something to a friend just up the street that I realized that there are other people with the same postal code, and I got curious as to how many of us there are.
Google's map of the postal code's boundaries shows C1A 4R4 as including all the buildings on the east side of Prince Street from Richmond Street to Grafton Street: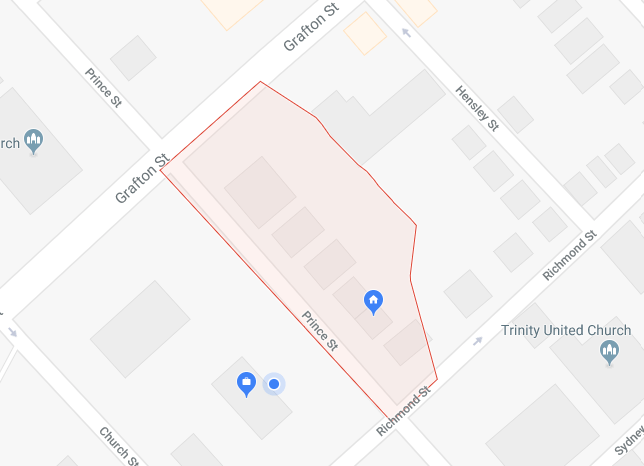 Indeed, Canada Post's reverse-postal-code-lookup tool shows 24 addresses fall under the postal code:
96 Prince Street, with 96-A and 96-B
98 Prince Street
100 Prince Street
104 Prince Street
106 Prince Street
108 Prince Street, with 108-1, 108-2, 108-3 and 108-4
114-1 Prince Street, with 114-2, 114-3, 114-4, and 114-5
120 Prince Street
124-1 Prince Street, with 124-2, 124-3, 124-4, 124-5, and 124-6
On a roughly-pasted-together composite of Google Street View images, these addresses look like this:

There are 6 buildings in all: 2 single-family homes (ours, at 100 Prince Street, is one of them), 2 multi-unit homes, and 2 multi-unit apartment buildings. Spread across these 6 buildings there are 19 distinct residential units and one office/retail space. A rough estimate, assuming an average of 2 people per unit, then, would see about 40 people sharing the postal code.
The walk from 96 Prince Street to 124 Prince Street is about 79 metres; Google says the distance can be walked, cycled or driven in about a minute.
Often, when I'm in a hurry, I'll often write my return address as "Rukavina / C1A 4R4," reasoning that our letter carriers are experienced enough to sort things out if the letter ever needs to be returned.
I've become fascinated recently with very-small-scale geographies, inspired, in part, by Flaneur magazine, which focuses on one street per issue: perhaps the best thing to do when everyone else is trying to communicate with everyone, everywhere, is to reach the people in my postal code?