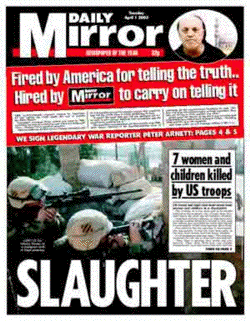 Here's Peter Arnett, quoted by Yahoo! News which is, in turn, quoting the Daily Mirror:

"I am still in shock and awe at being fired," Arnett wrote for the newspaper, which is vehemently opposed to the war. "I report the truth of what is happening here in Baghdad and will not apologize for it."
News Interactive reports the Daily Mirror's head was "Fired by America for telling the truth … Hired by Daily Mirror to carry on telling it."

The cover image from the Daily Mirror is at right.