I've been on the board of the L.M. Montgomery Land Trust for several years. We hold our monthly meetings at Ravenwood, on the Experiment Farm in uptown Charlottetown.
Every time a monthly meeting comes up, I take the car into work, and then drive up to the meeting. It's usually a hassle finding parking, and Charlottetown traffic (such as it is) is pretty heavy around the noon hour, so it's not a pleasant drive.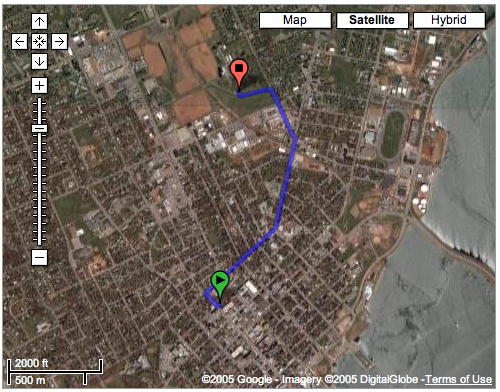 For some reason it dawned on me this morning that I might be able to ride my bike to the meeting instead of driving. While this might be an obvious approach, and one you think would have occurred to me earlier, it's important to recall that people in Charlottetown drive everywhere.
So although I've managed to largely avoid driving the five blocks from home to office every day, the notion of driving out past Allen Street — almost to the K Mart! — simply never seemed possible.
Except that today, it did.
I made sure to set off early — I left at 11:15 a.m. to leave plenty of time to get there by 12 Noon. I imagined that to go that far might take 30 minutes, maybe 45.
I got there in 8 minutes. Without pedaling very hard.
Although I was somewhat fatigued by the trip — more a reflection of my total lack of fitness than the degree of difficulty — it was generally a pleasant way to get there, and, all things considered, was net positive on time, money and fitness (mine and the planet's, etc.).
If we set aside the fact that I may simply be an idiot, it seems like I've discovered a major barrier to the adoption of alternative (i.e. non-automobile) means of transport: a well-ingrained status quo. Olle rides his bike to work every morning in Copenhagen because that's what everyone else is doing. I drove my car to meetings for the same reason. How on earth are we ever going to remember to take our wacky new olde buses when they hit the roads this fall, let alone remember that most of our city is within easy walking or biking distance.