I've been detecting and archiving ADS-B position reports from airplanes flying over Prince Edward Island for the last 18 hours; here's a map of what my little Raspberry Pi has picked up: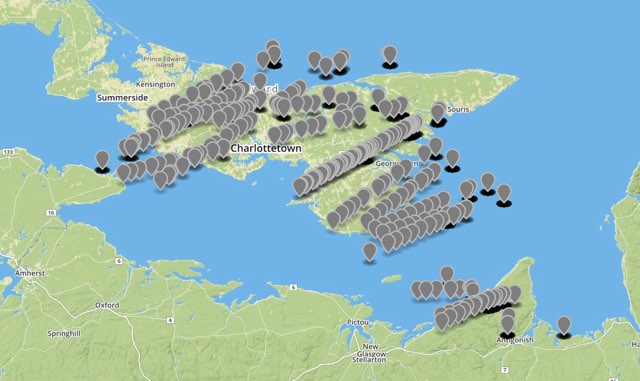 That's a simple visualization of the positions recorded created using GeoJSON.io. To allow me to see individual planes' tracks, I dumped the data points into a CSV file, edited it, and then ran it through GPS Visualizer: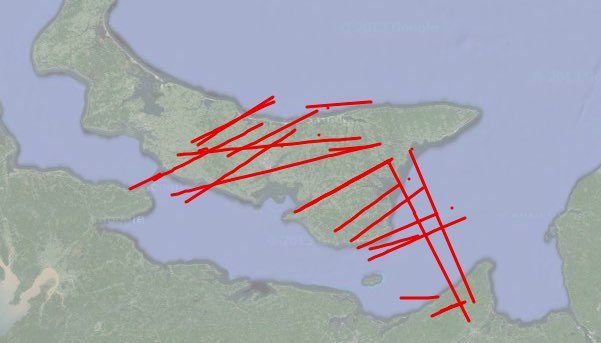 There were 1,095 position reports received from 37 distinct flights (here's the raw data should you wish to experiment with it yourself):
AAL42
AAL50
AAL78
AAL80
AAL86
ACA848
ACA878
AWE722
AWE750
AZA610
AZA65F
BAW196
BAW81V
CJT621
DAL24
DAL72
DLH425
DLH431
DLH435
EIN104
EIN138
ETD150
FDX36
ICE630
KLM18
N800J
NAX7012
QTR764
QTR8102
SAS926
SWR52
THY18A
UAL114
UAL126
UAL58
VIR12E
WJA424
You can enter those flight numbers into Google, or into FlightAware, and see the flight details: when you do this you'll notice that the vast majority of the flights were flying above 30,000 feet and were heading to or from Europe: none of the local flights from Charlottetown Airport were detected, likely because the ADS-B receiver I'm using is on the windowsill over my office downtown, and doesn't have line-of-sight to local flight paths.
My next step, thus, is to put an antenna up on the roof.