Here's what my U.S. election ballot looked like:

​
See the little "crosses" beside each candidate's name? Well, to vote I had to take my "paper-clip like device" (their words, not mine) and poke out a "chad" on the card. It's these chads that are now the subject of controversy in Florida. The latest I've heard is that in Palm Beach County there have to be at least two corners of a chad detached for the vote to count.
Weird coincidences: I was once in Palm Beach County on a mission to see the Disney Store there. It was a lot like Scarborough, but warmer. Robert Kahal, Irving Kahal's brother, lives in Palm Beach County. Hmmmm.
So it's 10:00 p.m. on a Saturday night and I want to sent a small package to New York City by regular postal mail. There is a Canada Post mailbox two blocks from my house. But I need a CN 22 (see story below) because my package qualifies as a "small packet." I go to the Canada Post website, naively thinking that I will find one to download there. Nope. Same thing at the U.S. Postal Service site. So I get in the car an drive up to the "let's decentralize the Post Office and put little Post Offices in places like variety stores, and they'll be more convenient because they're open all the time" Quik Mart, which is about 15 blocks away.

"The Post Office is closed. It will be open on Monday," says the snarky clerk.

So I drive up the road further to the IGA grocery store. I arrive at 9:59 p.m. They have just locked their doors.

So I drive way out to North River, on the outskirts of the city, to the PetroCan with Postal Outlet I used to frequent when we lived out that way.

"Sorry, we're not a Postal Outlet anymore; you'll have to go into Cornwall… but they're not open until Monday," says the nice clerk.

So I come home.

Finally, I find a sample CN 22 form on a BC Government website, and print it out, and stick it on.

Now I'm going to walk the two blocks to the mail box.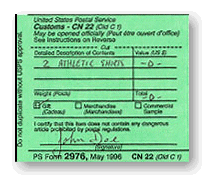 Form CN 22, Customs declaration (pictured here) is an international form used to declare the value of international mail shipments. It is mandated to be green in colour. There is now a proposal afoot to allow it to be white, so that it can be produced by personal computers without green paper. Wouldn't it be interesting to be at the meeting of the UPU where this will be considered?
From my eagle-eyed brother Mike: Seen on sign of child picketing with parents at Waterdown school over Ontario teachers' strike: "We need are teachers back."
As regular readers might have imagined, my recent I'll Be Seeing You obsession will made the jump to radio on Friday. You can listen in RealAudio right now if you're so-equipped.
From my brother Johnny:

In the telecommunications game, distinctive and compelling are far less important adjectives than shiny and modern looking..
I disagree: the
only
thing that
Island Tel
has going for it is its root in Prince Edward Island, and the strong connection of Islanders to this notion.
When you call the business office and ask why their best long distance rates are
double
the best rates from
AT&T Canada
, they happily tell you that they can't compete on price. They don't offer the features of their competitors (bill lookup by email, etc.) either.
The
only
reason I buy my long distance from them is because they employ my friends and neighbours. All that I demand in return is that they be distinctive and compelling. If they try and pretend to be any more shiny and modern, why wouldn't I just flip to their savvy, modern, shiny (and cheaper) competition?
Pages